Main content starts here, tab to start navigating
The Pop
At Strawser's we have a HUGE selection of over 180 different types of pop and the list is always growing! From old school favorites to disgusting named sodas (we love to make into floats on our WTF truck), from every kind of fruit to over 20 types of root beer, we have A LOT to choose from!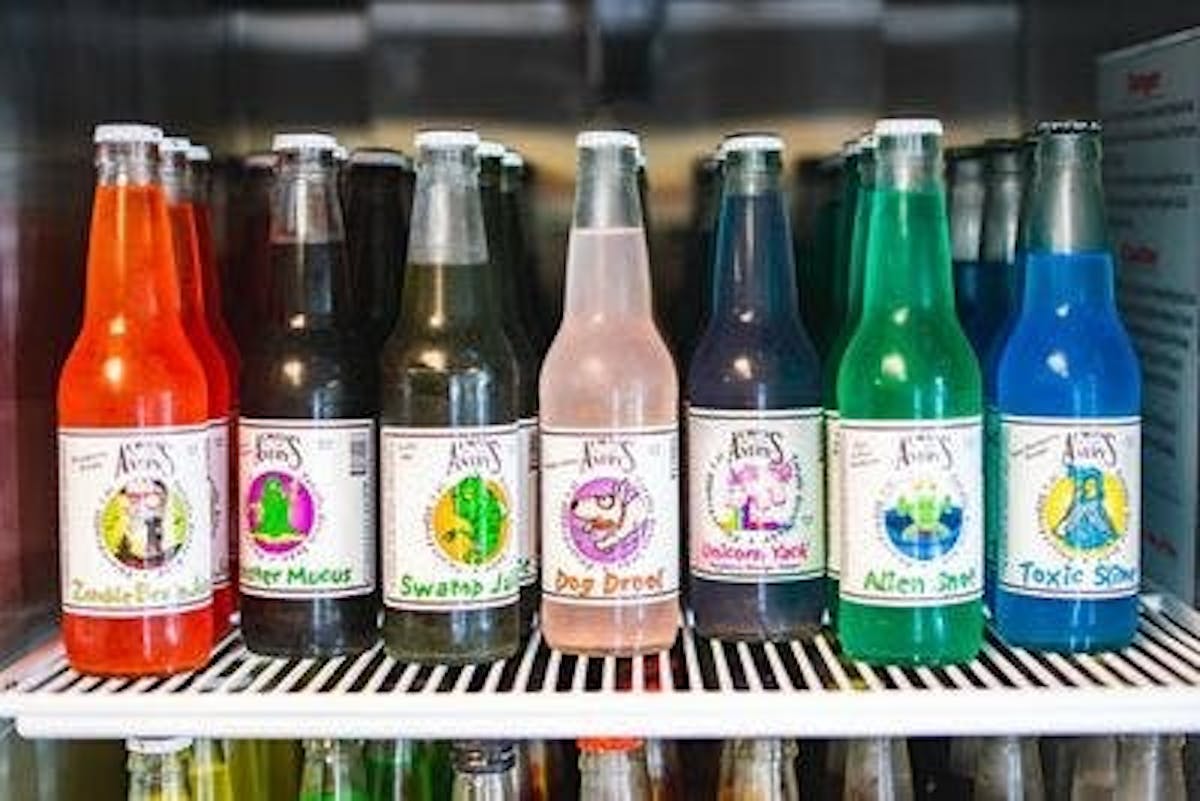 The list that keeps on growing....
Get into the excitement of trying all your favorites and find new favorites too!
Our list of sodas just keeps getting longer and longer. Don't see your favorite? Message us and if it's out there, we'll find it and get it to you!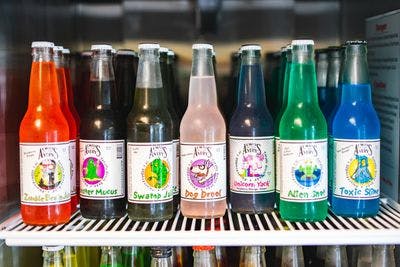 OUR CURRENT SELECTION
Our list grows every week
3 Stooges Root Beer

Ale 8

Ale 8 Cherry

Ale 8 zero sugar

Alien Snot

Apothecary Black Cherry

Apothecary Cream Soda

Apothecary Root Beer

Babe Ruth Cola

Bawls Cherry Cola

Bawls Cherry Soda

Bawls Orange Soda

Bawls Root Beer

Bazooka Bubblegum

Bug Barf

Bloody Nose

Boots Caramel Apple

Boots Coconut Cream

Boots Lemon Mrng

Boots Hot Cinnamon

Boots Sarsaparilla

Boots Strawberry & Cream

Boylan's Birch Beer

Boylan's Black Cherry

Boylan's Cola

Boylan's Cream Soda

Boylan's Diet Black Cherry

Boylan's Diet Cola

Boylan's Ginger Ale

Boylan's Grape

Boylan's Orange

Boylan's Red Birch Beer

Boylan's Root Beer

Boylan's Shirley Temple

Brownie Crème Soda

Buckeye State Soda

Bulldog Root Beer

Bundaberg Root Beer

Cheerwine

Cheerwine Zero

Chocolate Chip Cookie D

Chocolate with Banana

Chocolate with PB

Chocolate with Strawberry

Cincinnati Royal Orange

Cookie Dough Birthday Cake

Cookie Dough Red Velvet

Cream My People

Dad's Blue Cream

Dad's Orange Cream

Dad's Red Cream

Dad's Root Beer Diet

Dad's Root Beer

Dinosaur Dung

Dog Drool

Doomsday Lemonade

Dr Sprecher

Dragon Drool

Dublin Blueberry

Dublin Cherry Limeade

Dublin Green Apple

Earp's Sarsaparilla

Fairy Princess ST

Flying Cauldron

Frostie Blue Cream

Frostie Cherry Limeade

Frostie Orange

Frostie Diet Root Beer

Frostie Root Beer

Frostie Strawberry

Frostie Strawberry Watermelon

Frostie Vanilla Root Beer

Frostop Orange & Cream

Fudge Brownie CD

Fungal Fruit

Gamer Goop

Gene Simmons Cola

Gene Simmons C S

Gene Simmons GA

Gene Simmons RB

Havana Banana

Johnnie Ryan BB

Johnnie Ryan BL C

Johnnie Ryan Cherry

Johnnie Ryan Cola

Johnnie Ryan Cr S

Johnnie Ryan Grape

Johnnie Ryan RB

Jones Birthday Cake

Jones Blue Bubblegum

Jones Crème Soda

Jones Crushed Melon

Jones Fufu Berry

Jones Green Apple

Jones Icee BR

Jones Icee Cherry

Jones Orange/Cream

Jones Root Beer

Jones Warhead

Jones Watermelon

Judge Wapner RB

King Kong Cola

Kitty Piddle

Lester's Bacon/maple Syrup

Lester's Coffee soda

Lester's Cucumber

Lester's Pickle Juice

Lester's Pumpkin Pie

Marilyn Monroe WC

Marilyn Monroe Lemonade

Melba's Apple Pie

Melba's Birthday Cake

Melba's Strawberries & Cream

Mexican Coke

Mighty Mouse BC

Monkees Banana Nut

Monster Mucus

Norka Ginger Ale

Norka Orange

Norka Root Beer

Norka Straw/Cherry

Nuclear Orange

Pimple Pop

Pirate Piss

Putin Punch

Reed's Ginger Ale

RF Cotton Candy

RF Red Licorice

RF S'mores

Rocky Mountain Black Berry

Rocky Mountain Lemon Lime

Rocky Mountain P&C

Rocky Mountain Prickly Pear

Rocky Mountain Root Beer

Route66 Black Cherry

Route66 Blu Razz

Route66 Cream Soda

Route66 Grape

Route66 Lime

Route66 Orange

Route66 Root Beer

Rowdy Ronnie Bubblegum

Seal Ya Later

Slime Licker Blue

Slime Licker Strawberry

Sour Puss Bl Lem

Sour Puss Fruit Punch

Sour Puss Kiwi Orange

Sprecher Grape

Sprecher Root Beer

Stalinade

Super Duper Pineapple

Swamp Juice

Toxic Slime

Toxic Waste

Triple XXX Root Beer

Unicorn Magic

Unicorn Yack

Virgil's Black Cherry

Virgil's Orange Cream

Virgil's Root Beer

Virgil's Vanilla Cream

Virgil's Sugar Free RB

Warheads Black Cherry

Warheads Blue Raspberry

Warheads Green Apple

Warheads Lemon

Warheads Watermelon

Whirly Pop Cherry

Whirly Pop Grape

Whirly Pop Strawberry

Wizard of Oz Cherry

Worm Ooze

Zombie Brain Juice